Mama earth is the first Unicorn of the year 2022. Mama earth was founded in September 2016 by Varun Alagh and Ghazal Alagh.
Mama Earth has become the first company of 2022 at a valuation of $52 million. The main motive of the company is to make skincare products with utmost care.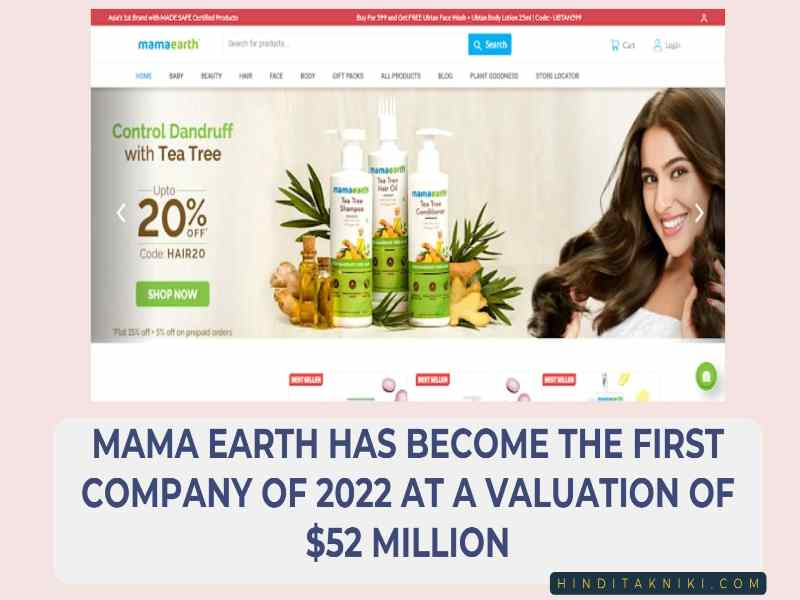 Mama Earth has become the first company of 2022
The company has raised $52 million in a round led by Sequoia at a valuation of $1.2 Billion.
Sofia ventures & Evolvence also participated in the funding round. The fund will be used in distribution, Brand launches, inorganic growth, and expanding the current products overseas.
The baby & skincare company Mama Earth parent Honasa Consumer is the first Unicorn of the year 2022.
Last year in 2021 India has given almost 43 Unicorns in the Technology sector. Mama earth itself established a clear market in the digital-first consumer goods space & Sequoia has decided to double down the partnership in this journey.
The CEOs themselves stated that Mama Earth has established itself in D2C(Direct to Consumer) sector with the purpose of goodness India.
The money will be used in the expansion to overseas markets and to become the best brand in the world.
Moreover, companies also said the round also gave employees an opportunity to sell their vested ESOP. Mamaearth is one of the fastest companies which makes a profit of 100 Cr in the span of only 4 years.
About Mama Earth Company:
The company was founded in 2016 with the help of Couples,Varun Alagh and Ghazal Alagh. For, past 2 years Mama earth has become the most valuable company in the field of D2C(Direct to Consumer).
The company profit had made more than 100 crores in just four years. Varun Alagh and Ghazal Alagh both couples were expecting the baby and they want to ensure that they could do everything to keep their baby safe.
But, when they research more on internet-related baby products. They were shocked to see the results that No product match the safety level of the product.
Every product in the market they saw contains a chemical product that is harmful to their newborn baby.
In just 4 years, Mama earth become the first Asia brand to get the Made safe certification for its toxin-free products.
Mama Earth started with 6 products in the Babycare range and now expand into hair and skincare products for women and men.
The ingredients are tested and launched & complimented by ISO, Non-GMO, and GMP as the founder says.
Some Facts:
According to some reports, (D2C) Direct to Consumer could be worth more than $100 Billion in the next six to eight years.
Importantly, Covid-19 has played a major role to push the consumer to buy online products. These are also some of the reasons for growing Mama Earth at a Valuation of $1.2 Billion.
Disclaimer: इस आर्टिकल में बताई विधि, तरीक़ों व दावों की HINDITAKNIKI पुष्टि नहीं करता है. इनको केवल सुझाव के रूप में लें. इस तरह के किसी भी उपचार/दवा/डाइट पर अमल करने से पहले डॉक्टर की सलाह जरूर लें.
Read Also: Betnesol Tablet Uses In Hindi